Hot Dog warmer
Dispatched within:
24 hours
product unavailable
add to wish list
0
Description
Hot Dog warmer
Device for making hot dogs RCHW 800 of Royal Catering has been designed for professional use. Device is made of high quality stainless steel, which protects against corrosion and helps to keep the equipment clean. The casing, in turn, is made of high-strength tempered glass.
Device for hot dogs RCHW 800 distinguished by its modern design and practical handling. What is certain is that with timeless classical elegance clients in your shop immediately will want to taste delicious hot dogs. They will be thanks to this device always fresh, preparing them will be child's play and will always be in your offer.
RCHW 800 heats water to more than 100 ° C and turns into steam. This ensures you get the crispy sausages, which will mouths to water your customers. Thermostat is continuously adjustable in range of 0 - 110 ° C. In this way you always prepare fresh sausage and ensure receipt of delicious hot dog.
Device has a module fully automatic control of temperature stability which has been proven over many years in all devices by Royal Catering and is constantly being improved. It ensures that set temperature in a reliable and steady will be maintained at the set level
Cleaning of device for hot dogs is easy, because in addition to glass parts, whole casing is made of high quality stainless steel. As a result, contaminants are easily removed, and device is protected against corrosion. In particular, it must be noted that all parts that come into contact with foodstuffs (glass container, cover, basket), as well as the water tank can be removed and washed in the dishwasher. This ensures hygiene and thorough cleaning.
Device has a CE declaration of conformity

| | |
| --- | --- |
| Model | RCHW 800 |
| article | New |
| voltage | 230 V |
| power | 800 W |
| housing material | High-quality stainless steel |
| material holders | High-quality plastic |
| material of glass container | tempered glass |
| tempered glass | 0 – 110°C |
| Dimensions (LxWxH) | 31 x 28 x 40 cm |
| Weight | 6,2 kg |
| Shipping Dimensions (LxWxH) | 35 x 37 x 44 cm |
| shipping Weight | 7,4 kg |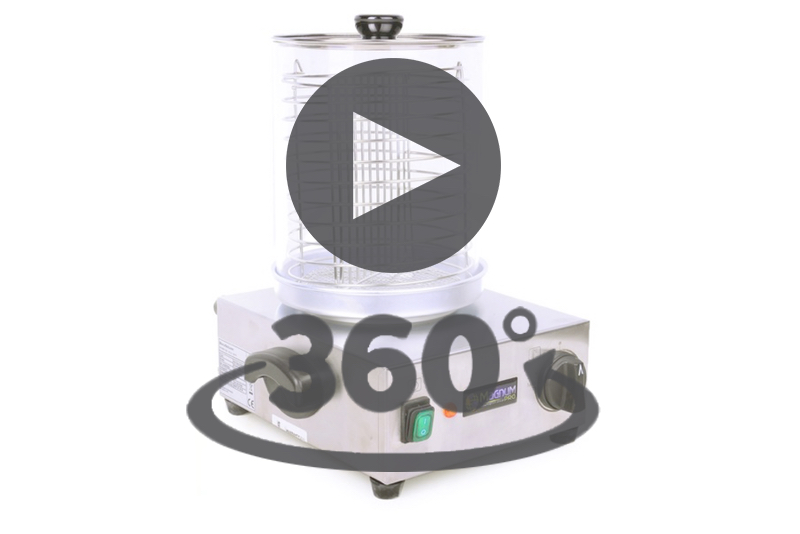 Shipping costs The price does not include any possible payment costs
Product reviews (0)